At Maitland Chocolate we enjoy catering to our customer and that's why we have expanded our current catering options.
We will continue to provide fantastic vendor options for events such as birthday parties, weddings, holiday corporate events and more.  We are happy to include a new way to get the handmade chocolate from us without coming to the store.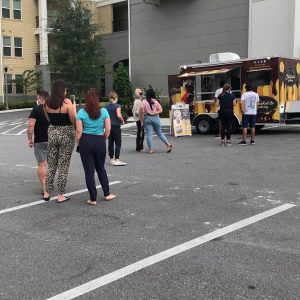 We will now be out and about with our new chocolate food "truck."  You will now see us at many of the local and not so local events around town and beyond providing our delicious handcrafted fresh chocolate to event goers.
Keep up with us on Facebook to see where we will be next and you can drop in to get some of the best chocolate you've ever tasted and the chocolate you've come to love over the years.
Do you have a special birthday coming up? We have chocolate party favors to compliment your celebration.  For your anniversary we have something extra special for you.  How about edible paper of the two of you on a chocolate frame.  This is only one of the many romantic gifts for every anniversary or wedding that fills your life.  Maitland Chocolate knows that chocolate makes most things better and everyone feel a little better.  We also offer chocolate get well gifts with a gourmet look and feel.  How can you shop for these chocolate gifts? Call our Maitland location or just shop our tasty online chocolate offerings and you'll discover a chocolate gift basket for every occasion.